(Southern Counties Photographic Federation – Roll of Honour)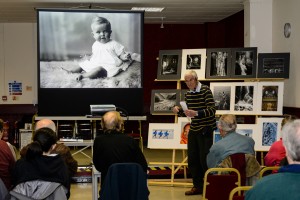 One of our photographers, Stephen Pritchard, felt very privileged to be asked by his local camera club to be the event photographer for a very special evening.
Long term member, Mike Farrow, was presenting an evening of fine photography with a special part covering 3D imagery taken with film. Everyone was requested to put on cardboard spectacles, which give the audience a slightly humorous sci-fi look.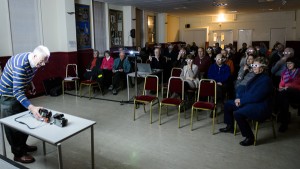 The biggest surprise of the evening however was when John Hodge, President of the Southern Counties Photographic Federation arrived to give Mike and his wife, Cath, with the SCPF Roll of Honour
– a very special award for those who have given many years of support for club photography.
Mike and Cath have been hugely important in making our club what it is, through their work
in various committee posts, always being willing to help and encourage, and not least for inviting
generations of new club members into their home to instruct them in the craft of photography.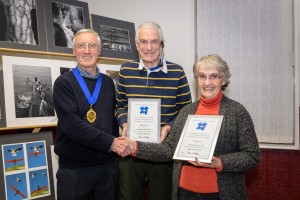 After a short review of some of their many contributions, John Hodge presented them each with their Roll of Honour with everyone in the club applauding in what we all agreed was well deserved recognition.
"Well done Mike and Cath, and thanks for all the photography advice you've give me over the years"
Stephen Pritchard – Photographer